Deus Ex: Human Revolution
is a science fiction action role-playing
video game
developed by Eidos Montreal and published by Square Enix. Released in August 2011, it is the third game in the
Deus Ex
series, and a prequel to the original game released in 2000.
The game is set in 2027, 25 years before the first title of the series, at a time when cutthroat multinationals have developed their operations beyond the control of national governments. The game follows Adam Jensen, the newly hired director of in-house security for an up-and-coming biotechnology firm specialising in human cybernetic enhancement, Sarif Industries. After a brutal act of industrial terrorist sabotage at Sarif's Detroit-based headquarters and primary R&D facilities, the mortally wounded Jensen is forced to undergo radical life-saving surgeries that replace large areas of his body with advanced prostheses. Upon returning to work, he becomes embroiled in the global politics of the human enhancement movement in the search for those responsible for the attack.
Human Revolution received critical acclaim upon its release, with many reviewers praising the open-ended nature of the game and the weight of social interaction on the outcome of events.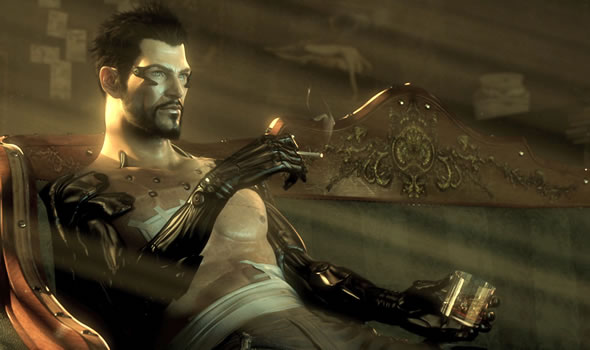 Deus Ex: Human Revolution Minimum PC Specs:
OS: Windows XP, Windows Vista or Windows 7 with DirectX 9.0c
PROCESSOR: 2 GHz dual core
RAM: 1 GB RAM (Windows XP) / 2 GB (Windows Vista and Windows 7)
GRAPHICS: NVIDIA GeForce 8000 series or ATI Radeon HD 2000 series or better
REQUIRED DISC SPACE: 8.5 GB

Deus Ex: Human Revolution Recommended PC Specs:
OS: Windows 7
PROCESSOR: AMD Phenom II X4 or Intel Core 2 Quad or better
RAM: 2 GB
GRAPHICS: AMD Radeon HD 5850
REQUIRED DISC SPACE: 8.5 GB